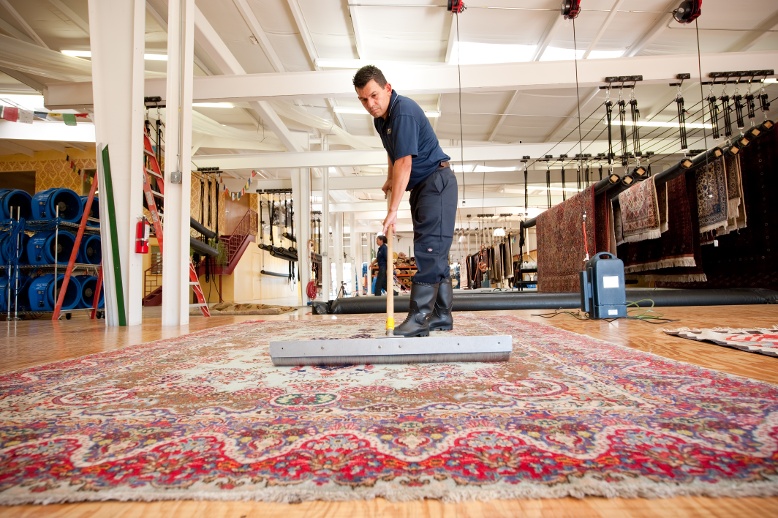 Keep Your Rugs as Clean as your Carpets
If your formerly bright and beautiful area rug now looks dingy and stained, it is time to have it cleaned. While running a vacuum over certain rugs is fine for regular maintenance, area rug cleaning is more complex than homeowners often realize. Small rugs have variations in materials, weave type, and color that are often ruined by well-intentioned cleaning efforts.
A professional can best assess what type of materials are in your rug and how to safely clean them. Many small rugs are a blend of materials. For example, most wool rugs are actually a blend of cotton and wool. Silk rugs may bleed, even if blended with other fibers. Wool, interlock or velvet rugs may shrink or bleed if wet cleaned. Rayon rugs can shrink or become misshapen. Professional cleaners target the most dominant fiber, working more carefully if a blend is almost equal.
Wear compacts the pile in rugs and makes them dull and dirty. Professional cleaning grooms the pile so it stands upright again and reveals the true colors so they look brighter. Any flame retardant treatment is not affected.
Flat woven area rugs, such as Navajo rugs, dhurrie or rag rugs, need more frequent cleaning and stain protection because they show dirt more easily than pile rugs. Running colors, damage to fringe, and tears are all risks related to cleaning these rugs.
Assist your cleaning professional by discussing any stains and what caused them. Be candid if the stain is vomit, blood feces or urine because the cleaner will need to know. Also, even professionals may not know if a stain is removable until they try.
Once your area rug is professionally cleaned, vacuum it about twice a week to maintain it. If dirt becomes worked into a rug it is harder to remove. For best results, have your area rugs cleaned each year. Contact us for the best in professional area rug cleaning.