You are not in the cleaning business; Focus On Increasing Productivity!
This is true. Unless you really are in the cleaning business. And if you are not in the cleaning business, you should be spending your time growing your business. Most business owners do this with great sales teams, innovative marketing, product promotions, and great customer service and product quality. But, while all of these are excellent ways for you to improve your revenue, there is one underlying facet. And, quite frankly it's an important one. A CLEAN OFFICE. You spend the majority of your time and energy on figuring out ways to increase productivity. However, there are a few specific reasons on why a clean office has a HUGE impact on revenue and sales.
Want fewer headaches and increased productivity? Keep reading…
The High Cost of Low Morale: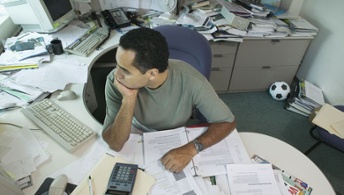 Morale can be the fuel that drives an organization forward or the fuel that feed the fires of employee discontent, poor performance, and absenteeism (Ewton, 2007). With low morale comes a HUGE price tag! The Gallup Organization estimates that there are 22 million actively disengaged employees costing the American economy as much as $350 billion dollars per year in lost productivity including absenteeism, illness, and other problems that result when employees are unhappy at work.
Research has shown that companies that have an office cleaning service provider achieve higher production numbers because of an increased staff morale. Not only does the clean office help lift employees' spirits, but it also encourages them to be more organized within their personal workspace.
Studies also demonstrate that a clean and organized workplace improves employee retention due in large part to decreased stress. EXERCISE: I want you to take a look at your desk. Is it cluttered? Take a minute to think about how you feel when you come back to your desk and it looks like a hurricane just occurred; you probably feel stressed, rushed, and disorganized. Well, the same holds true with regard to your entire office space. A clean office reduces stress levels. Period.
Addressing Your Dirty Office Space
Customer satisfaction surveys show that a clean office allows a stronger sense of trust in the company. When your employees have a stronger sense of trust, THEY SELL MORE. Also, think about this from your customers' perspective. How do you feel when you walk in to a clean retail store in comparison to one that has hand prints on the windows, trash on the floor, dirty carpets, smelly restrooms, and a dirty entrance? Other studies show that customers talk about a businesses cleanliness when discussing with friends and family.
I've come up with a check list to help you get one step ahead of your competition with a clean office.
Have your carpets cleaned regularly (Carpet manufactures recommend cleaning at least once per year)
Have your furniture cleaned regularly (It's easist to have this done while your carpets are cleaned. Most carpet cleaning companies will offer this service as an 'add-on')
Hire a professional cleaning service to take care of your cleaning. Depending on your office size, you will want to consider having a cleaning company clean daily, three times a week, or five times a week.
Make sure your restrooms and bathrooms are spotless. Cleaning the mirror, toilets, urinals, floors, and making sure the trash is emptied, and don't forget to restock the toilet paper, paper towels, and soap.
Vacuum Daily. Not only does this help with appearance, but it will help keep dust and other contaminants out of the air. Your employees will thank you for keeping them healthy.
Empty trash bins daily. Your employees tend to throw any and everything in their trash. Gross. Empty the trash.
Clean your entry door windows making sure to remove all hand and finger prints.
Pay attention to the ceilings and air vents. Remove any hanging dust bunnies.