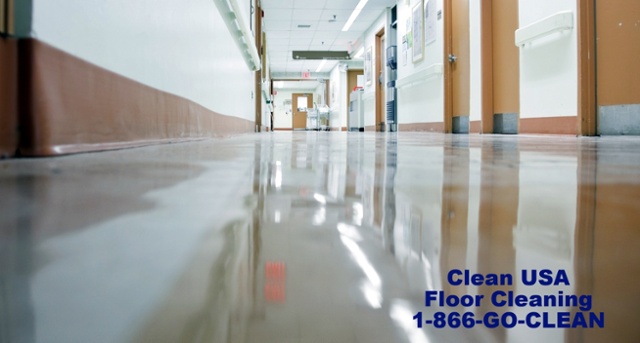 Carpets are not the only floor surface that can exhibit signs of wear. Hard surface flooring such as linoleum, laminate, and hardwood also requires periodic maintenance and cleaning from a professional cleaning service. Hard surface flooring is similar to carpet in that traffic pattern wear is unsightly and visually unappealing. If you notice that the perimeter of your office or business space appears glossy while traveled parts are dull, scuffed, or dirty, then it is time to contact a commercial cleaning professional.
Clean floors create uniformity and brightness for an office. Not only does this lend itself to a positive and comfortable experience for visiting clients and customers, but it also creates a more enjoyable work environment. A clean environment also reduces employee sick days, thereby improving the efficiency of the team.
Commercial floor cleaning should be seen as an investment rather than an expense. Regular cleaning restores and protects flooring and extends its lifespan. Especially in workplaces with a lot of square footage or open floor plans that require continuous floor covering, the cost of maintenance is far less than the cost of replacing floor surfaces. Floor cleaning is beneficial, even for an old surface and will help restore its original luster.
Contact us to learn about our commercial hard floor cleaning services. We can help you create a positive first impression for all who visit your commercial building or office. With 24/7 availability and our easy scheduling system we are accessible and ready to assist in all your commercial cleaning needs in and around the DeKalb, IL area!